The NorDan 2023 British Handball Super Cup took place last weekend at Oriam, Scotland's Sports Performance Centre in Edinburgh, with the top four men's and women's teams from Scottish and English leagues battling it out the title and European club competition qualification. A spectator packed Oriam saw Olympia HC and NEM Hawks HC respectively crowned the women's & men's NorDan 2023 British Handball Super Cup Champions.
Day 1 - Semi Finals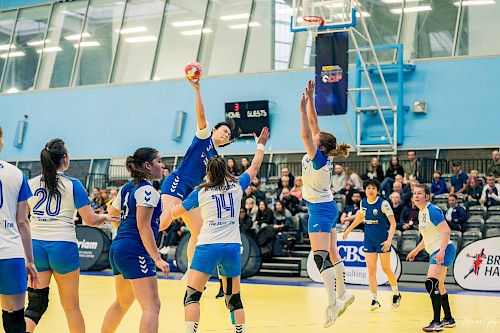 Game 1 - Edinburgh HC (Scottish Women's League Champions) v West London Eagles HC (English Women's Premier League Runners up)
HT score: 9-6
FT score: 16-22

There is no better way to describe the opening match of this year's edition of the Super Cup than with the time-old adage of, "A Game of Two Halves". Edinburgh started strong, looking to make up for last year's defeat against opponents West London Eagles HC. However, Paul Dempsey's team turned on the heat and changed tactics in the second half, reversing the score line, and finishing with a solid result of 16-22 to the Eagles.
Game 2 - Olympia HC (English Women's Premier League Champions) V Newcastle Vikings HC (Scottish Women's League Runners up)
HT score: 15-3
FT score 29-9
Dominating performance by the English Premier league champs Olympia HC to secure a spot in the Final. Newcastle Vikings, as the Scottish 2nd place league representatives, played well defensively and showed grit and determination throughout.
Game 3 – Livingston HC (Scottish Men's League Champions) V Olympia HC (English Men's Premier League Runners up)
HT score: 14 – 11
FT score: 27 – 21

It was a strong defensive and offensive performance from Livingston HC against 2nd place EHA league opponents Olympia HC. Spurred on by their defeat last week in the Scottish Cup Final, Livingston stepped up and displayed a fantastic performance to do one-better than last year, securing a spot in the NorDan 2023 British Handball Finals.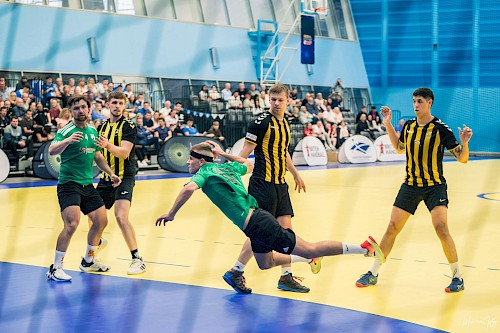 Game 4 – North East Manchester Hawks HC (English Men's Premier League Champions) V EK82 (Scottish Men's League Runners up)

HT 15-16
FT 36-34
Groundhog Day for Hawks & EK82, as the two teams faced each other, once again, at the Semi-Finals of the Super Cup. However, this year's score line was much closer than the 12 goal HT difference from 2022's match, and with EK82 leading by 1 goal. But, it was NEM Hawks who stepped up their game in the second half to push through to a 36-34 victory and join Livingston as finalists for the Men's Super Cup.
Day 2 – Finals Day & Bronze Medal Matches
Game 5 - Edinburgh HC v Newcastle Vikings HC
HT: 13-5
FT: 24-11
Edinburgh displayed a strong performance over Newcastle Vikings HC to reclaim 3rd place at the NorDan 2023 British Handball Super Cup for a second year in a row. Despite the defeat it was smiles all round for Newcastle, as the runners up enjoyed their match against league rivals, and friends, Edinburgh HC.
Edinburgh HC 3rd Place, Newcastle Vikings HC 4th Place
Game 6 – Olympia HC v EK82 HC
HT: 15-11
FT: 30 – 22
Both teams, with their own motivations, took to the stage with the determination to come home with a medal. EK82 played well throughout, however it wasn't enough to secure that 3rd place that alluded the team from the last Super Cup. Olympia HC came out victors and return south as NorDan 2023 British Handball Super Cup Bronze medallists.

Olympia HC 3rd Place, EK82 4th Place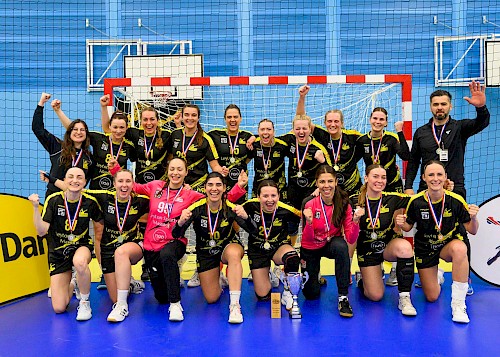 Game 7 - West London Eagles HC (Winner Women's Game 1) v Olympia (Winner Women's Game 2)
HT: 10-6
FT: 25-18
It was a London Derby in Edinburgh on Sunday at the Finals with Olympia HC vs West London Eagles HC. There was no doubt surrounding who brought the biggest support, as Olympia men did well to rally their female counterparts throughout the sixty minutes. Olympia utilised their speed and precision to lead by 4 goals at HT. Despite some fantastic skill on show by the West Londoners, it just wasn't enough to match the performance of the English Premier League Champions. Olympia HC return to London with the double; League, and British Super Cup Champions, and now look to claim the triple with a rematch against West London Eagles at the English Cup Finals in the next few weeks.
Olympia HC 1st Place, West London Eagles, 2nd Place
Game 8 – Livingston HC v NEM Hawks HC
HT: 13-11
FT: 23-23
AET: 27-30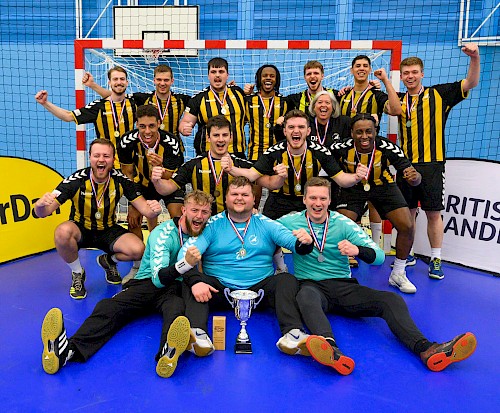 We've only just started breathing again after the Men's Super-Cup Final. It was Livingston who took the lead at half time with a score of 13-11. Again, it must have been another one of NEM Hawks Coach, Donna Hankinson's, Half-Time pep talks which rallied her team as they turned the tables after half time to take the lead by two goals with five minutes to go. The support for Livingston filled Scotland's Sports Performance Centre as the crowds rallied behind the team as they brought the score to level. Despite a final throw for the chance of taking home the win at FT, it wasn't to be for Hawks, and both teams re-set for ten minutes of Extra Time. Hawks took an early three goal lead in extra time, and despite being two players down at one point, Livingston just couldn't quite close the gap. NEM Hawks were crowned Super Cup Champions after an epic match, a fantastic competition, and a brilliant advert for British Handball.
NEM Hawks 1st Place, Livingston HC 2nd Place

We hope to see you all back in Scotland's Capital for the 2024 edition of the British Handball Super Cup.